Get ready to battle for rewards with the Arena of Warriors event! 🛡️
When the event is live, a worthy warrior is found for you and a battle is activated. ⚔️
You'll begin the battle with a full bar, and as you complete action items, your competitor's bar will decrease based on the points you've earned (and vice versa).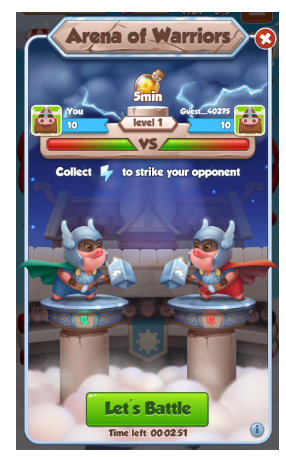 The first player to empty their opponent's bar wins the prize for that battle and gets to move up a level for an opportunity to compete for better rewards! 🎉
🐷Coin Master Tip: Make sure to check the paytable to see which actions you need to take your opponent down.
Even if you don't win, don't worry. Another opponent will be found for you, so you can keep battling and having fun until you complete all levels or until the event ends.
Just keep in mind that each round is time-limited. ⏰
En garde!