Allow us to introduce you to your new Piggy Bank! 🐷💰 We figured it was time you got a chance to save up extra Spins for a rainy day and this lil' cutie makes it a breeze. 🍃 Spin after Spin, watch your savings grow!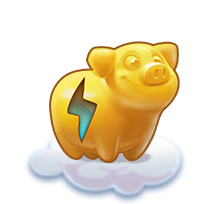 The Piggy Bank accumulates Spins each time you land on the symbols listed in the pay table. You can find the pay table by clicking on the golden Piggy Bank icon in the upper left-hand corner of the Main Screen, and then clicking on the blue info icon. As usual, the higher you bet, the more Spins you'll add to your bank. 🏦
When you're ready to claim those Spins you've acquired, you can purchase your Piggy Bank and give it a good smash. 🔨 Don't worry, you'll get a new Piggy Bank once the old one is cracked open, so get your hammer ready!
Important Notes
The Piggy Bank has a Spin limit and once it's full (which you can see by clicking on your Piggy Bank), it'll stop accumulating Spins

until you purchase it. Once you buy it, you break it!

The Piggy Bank collects Spins that wouldn't have been added to your Spins total before he arrived.