Was your Village🏡 attacked and destroyed?! When this happens, the Village item that was directly hit will downgrade and the star⭐ you earned for that item will be removed😔. Luckily, there are two ways to get your Village up and running again in no time. It's a super quick fix🛠!
Click on the Orange Button

When you click the orange wrench button under the damaged item you want to restore, the cost to build and the amount of stars needed to fully upgrade each item will appear. Simply click the button again, and get to building🔧!
Village Shop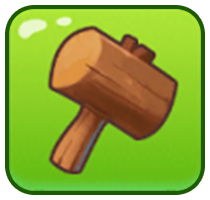 When you click on the square hammer icon in the bottom left-hand corner of your Village screen, you'll be taken to the 'Village Shop'. From there, simply tap on the 'Fix' button next to the damaged item you want to restore from within the menu, and you're good to go!
Yay, you did it🏆! Can you believe it was that easy?! Now that your Village is restored, build build build🚧 and level up to the next one.