Inviting your friends to play Coin Master is as easy as 1-2-3! 🚀 You get to show off how many friends you have, 👥 complete rewarding missions, and your friends get to play with you! 😎
The new and improved Friend Invite popup now features a progress bar that racks up points every time a new player uses your invitation to join the game and completes the tutorial. Once you've reached enough points to finish the mission, you win a gift! 🎁 Can't get better than that, can it?! Yes! You don't even have to be Facebook friends with the player you invited to get points in the progress bar!
But, if your friend connects to the game through Facebook and completes the tutorial, you'll receive additional Spins on top of the progress!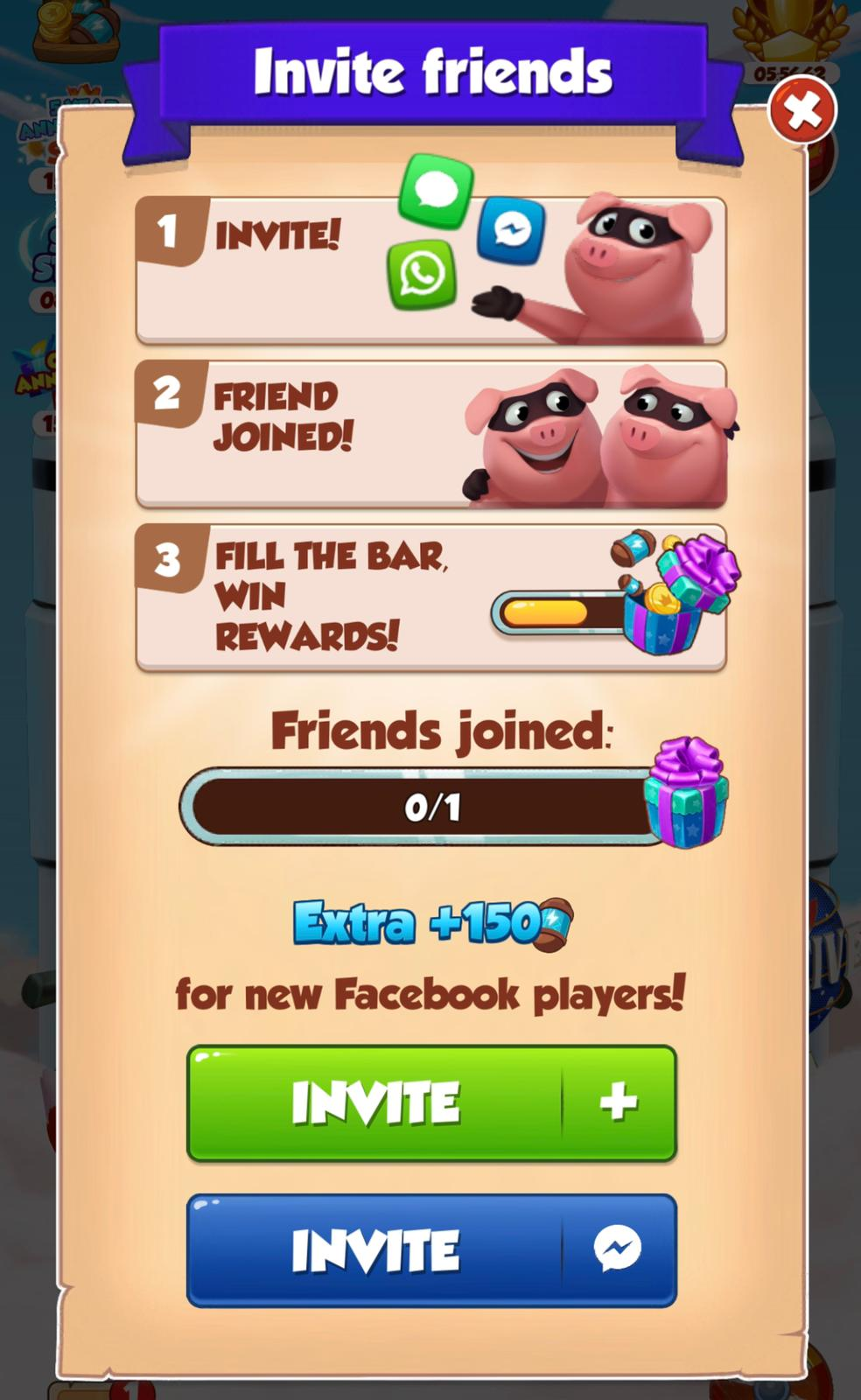 How to invite friends to play

:
Click on the Friends icon in the bottom right-hand corner of the Main Screen.
Click on the Friends tab.
Click on Invite Friends at the bottom of the screen.
When you reach the Invite Friends window, you'll see the two ways to invite friends:
Click on the green Invite button and send your invitation link any way you like.
Click on the blue Invite button and send your invitation link via Facebook Messenger.
Important Notes:
You'll

only

receive progress points and gifts 🎁 if your friend has

never downloaded the game

to their device 📱 before.

If two (or more) players invite the same friend, only

one person can receive spins

(the one whose link was used to join the game).

You can invite up to

180 friends to add points to the progress bar for gifts. Once you successfully invite 180 friends, you'll still receive progress, but won't be eligible for any more Friend Invite gifts through the progress bar.
Spins can be collected for up to 250 friends

who join the game through your link and

follow the necessary steps

.