Take a magical journey to get some fantastical rewards with the Magical Trail Event. 🧚
Step into this mystical forest for an opportunity to land on treat-filled tiles while working your way towards the incredible grand prize. ✨
1. Tap on the badge on the right-hand side of the Main Screen to enter.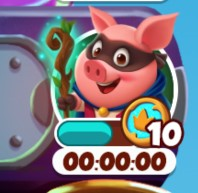 2. You'll need Energy to spin the wheel, which you can get as a reward from different events. Make sure to click on the 'i' by the wheel for more information.
3. Spin the wheel to advance along the forest trail. You'll get the reward only when landing on the tile (and not just passing it along the way).
4. Keep spinning to get points to fill the progress bar, complete missions, and unlock even more exceptional prizes. 🌟
When the event ends, your progress will reset for next time and any remaining Energy will turn into Spins.
👀 Be on the lookout for these special tiles. Keep in mind you have to **land on one** to get the rewards.
Double Move: Land on it and advance double the amount of your last move.

Mega Move: Land on it and you'll sprint your way ahead.
🐷 Piggy Pointer: When you spin and land on the Bonus, it'll multiply the move you land on next, so get ready to rack up some extra moves. 🙌
Abracadabra, rewards come true! 🪄